Een
Oud Hollandse Keuken
is de nostalgische keuken in landelijke stijl die doet denken aan "grootmoeders tijd". Waar geuren van koffie en appeltaart hangen en het hele gezin samenkomt om te eten. Oud Hollandse keukens dragen een gevoel van sentiment en zijn veelal opgebouwd uit hout, steen, tegels en ijzeren grepen. Toevallig zijn wij hier bij Eco Keukens in gespecialiseerd!
Eco Keukens maakt keukens die bestand zijn tegen de tijd. Deze stijl keukens zijn uniek, bestaan uit maatwerk en maken gebruik van ambachtelijke materialen en afwerkingen. Wilt u meer weten over de Oud Hollandse stijl of bent u benieuwd naar de materialen? Op deze pagina vindt u alle benodigde informatie over een Oud Hollandse Keuken uit Gieten.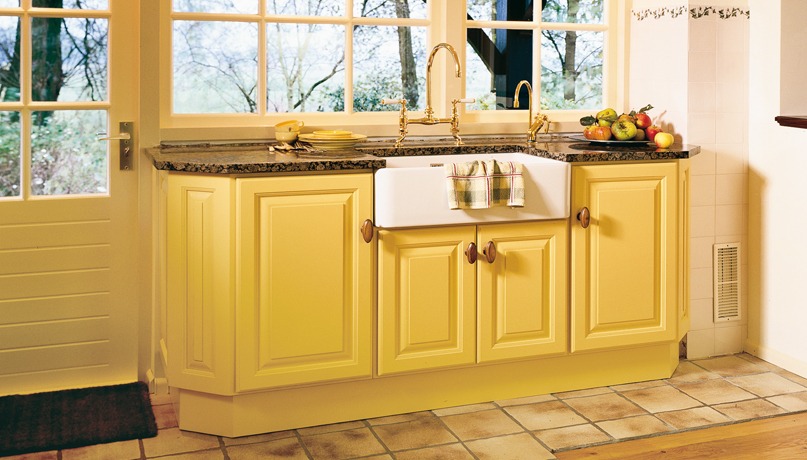 Oud Hollandse Keuken – Materialen
De materialen die gebruikt worden bij het maken van een Oud Hollandse keuken zijn vaak hetzelfde. In deze stijl komen metalen grepen, hout en tegels vaak terug. Meer landelijke keukens zien? Alle elementen uit een Oud Hollandse keuken komen hier aan bod.
Vloer – De vloer in een Oud Hollandse keuken bestaat oorspronkelijk uit tegels, maar de laatste jaren zien we hier ook veel hout in terugkomen. Dit keer geen visgraatmotief, maar kruismotieven of diagonale patronen. De tegels zijn meestal van dezelfde kleur, hoewel zwart wit een kleurencombinatie is die ook vaak terug komt.
Kastjes – De kastjes in een Oud Hollandse keukens bevinden zich vaak onder het aanrechtblad in tegenstelling tot aan de muren. Een enkele lange kast naast het aanrechtblok is een veel geziene optie. Kies in dit geval een servieskast met een glazen deur om uw servies ten toon te stellen!
Werkblad – Het werkblad van de Oud Hollandse keuken bestaat vaak uit steen of graniet dat naadloos is verwerk in het hout. Hout en steen zijn een prachtige combinatie die elkaar alleen maar versterken. Natuursteen is laag in onderhoud en geeft een robuuste uitstraling aan de keuken.
Kozijnen – De kozijnen van deze keukens leveren een grote bijdrage aan de stijl. De inkadering van deuren en kasten is kenmerkend. De lades en kozijnen zijn tevens gemaakt van hout.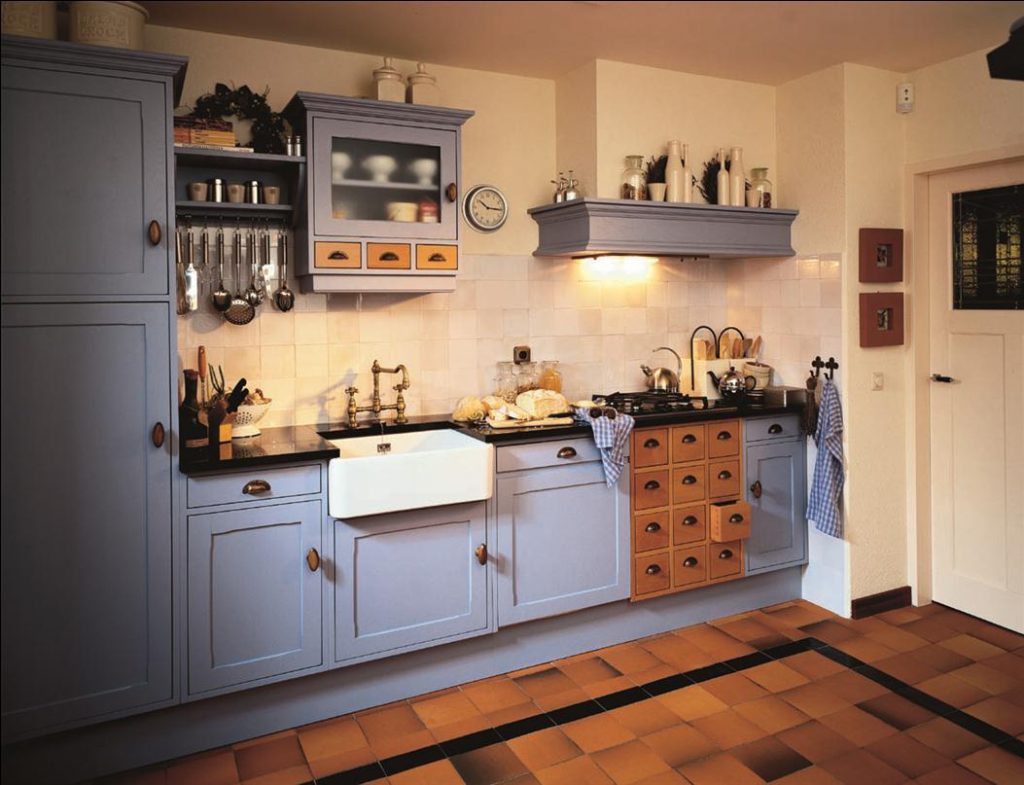 Oud Hollandse Keuken – Kleurgebruik & Stijl
Het kleurgebruik in een Oud Hollandse keuken komt veelal voort uit het gebruik van Oud Hollandse kleuren zoals: Monumentgroen, Vechtcrème en Ossebloedrood. Deze kleuren combineren erg goed met het verwerkte natuursteen en de vloer. Daarnaast wordt het klassieke karakter ook nog versterkt door de combinatie van tegels, steen en hout. Ook de accessoires dragen bij aan de stijl: klassieke metalen grepen op de kastjes, de oude metalen kraan en het grote fornuis. Eco Keukens maakt ambachtelijke keukens doordat veel afwerkingen met de hand moeten worden vervaardigd.
Oud Hollandse Keukens – Accessoires
De diverse accessoires in een Oud Hollandse Keuken zorgen voor de stijl. Hoe u de keuken inricht moet u natuurlijk zelf weten! Een Oud Hollandse keuken maakt veel gebruik van grote apparatuur zoals een 6-pits fornuis, een grote wasbak van steen of porselein en een metalen kraan. Daarnaast zijn hoge planken of haken aan de zijkant van de kastjes zijn accessoires die uw Oud Hollandse keuken echt afmaken.
Oud Hollandse Keuken Kopen
Wilt u nu ook een Oud Hollandse keuken kopen? Dan bent u bij Eco Keukens aan het juiste adres. Wij leveren uitsluitend maatwerk en kunnen uw keuken precies naar uw wens uitvoeren. Wij maken gebruik van verschillende materialen, kleuren en accessoires en hebben een showroom in gieten.
Vraag een brochure aan of vul uw contactgegevens in op de contactpagina. Natuurlijk kunt u ook altijd bellen naar onze winkel, onze specialisten proberen u zo goed mogelijk te helpen. Eco Keukens: voor de Oud Hollandse keuken van uw dromen!