Bent u op zoek naar een
houten keuken
? Dat is goed te begrijpen! Een keuken van hout is er namelijk in veel verschillende opstellingen en stijlen. Zo kunt u bijvoorbeeld kiezen uit diverse houtsoorten.  Aangezien ze beschikbaar zijn in diverse stijlen, is voor iedere woning de beste opstelling te vinden. Hierdoor zit u het liefst de hele dag in uw houten keuken.
Voor- en nadelen van een houten keuken
De houten keuken is terug van nooit weggeweest. Deze modellen kennen zowel voor- als nadelen. De gebruikte materialen zorgen niet alleen voor een natuurlijke uitstraling. Deze keukens zijn namelijk ook nog eens duurzaam. Omdat hout een natuurlijk materiaal is, 'leeft' het. Hierdoor vergt de keuken wel meer onderhoud. Voornamelijk omdat vlekken iets lastiger te verwijderen zijn dan bij andere materialen. Van een 'standaard' houten keuken tot luxe massief houten keuken, alles is mogelijk.
Bent u op zoek naar een nieuwe keuken en wilt u deze volledig naar uw wensen vervaardigen? Onze professionals geven u graag advies. Eco Keukens is dé speciaalzaak als het gaat om houten keukens. Wij zijn al 30 jaar gespecialiseerd in het leveren van maatwerk en op maat gemaakte ontwerpen. De keukens die wij leveren, vervaardigen wij in onze eigen fabriek. Wat we niet met de machines voor elkaar krijgen, wordt met de hand gerealiseerd. Zo weten we zeker dat al onze keukens aan strenge kwaliteitseisen voldoen en kunnen wij de wensen van onze klanten gemakkelijk vervullen.
Houtsoorten
In de keuken kunt u kiezen uit diverse houtsoorten. Hierbij zien we dat het vaakst wordt gekozen voor eikenhout. Een paar voordelen van deze houtsoort is dat het op veel manieren bewerkt kan worden én dat het jarenlang meegaat. Andere soorten waar u voor kunt kiezen zijn onder meer notenhout, essenhout en steigerhout.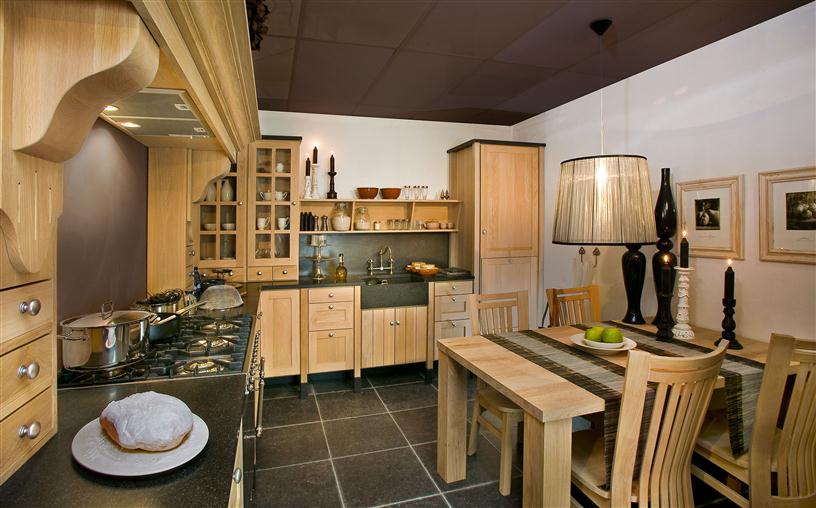 Een warme huiselijke uitstraling dankzij een keuken van hout
De meest genoemde reden om te kiezen voor een keuken van hout is de warme uitstraling. Het zorgt hierbij voor een karakteristieke look en gevoel. Houdt u van warmte en huiselijkheid? Dan zijn onze keukens zeker iets voor u. Een houten keuken past niet alleen in een landelijk interieur, ook in een moderne inrichting komt deze keuken goed tot zijn recht. Het gebruik van deze materialen betekent niet per definitie donkere kleuren, zichtbare nerven en een robuuste uitstraling. Vele opties zijn mogelijk.
Onverwoestbaar
Keukens met fineer zijn vaak kwetsbaar. Hout daarentegen is gemakkelijker te repareren. Stel er komt een kras op een kastje, dan is dit dankzij een kleine bewerking weer goed te herstellen. Hout is een ontzettend sterk materiaalsoort. Dit zorgt ervoor dat u jarenlang plezier hebt van uw keuken zonder verlies van kwaliteit.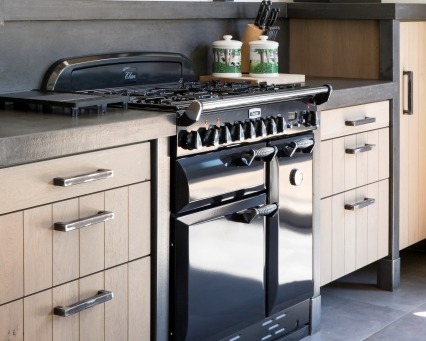 Hoe stelt u uw eigen houten keuken samen?
Wanneer u een houten keuken wilt samenstellen, kijkt u naar een aantal belangrijke factoren. Als eerste vragen wij natuurlijk in welke stijl uw keuken gemaakt moet worden. Deze keukens hebben één verbindende factor, namelijk het gebruik van massief hout. Daarnaast worden er verschillen gemaakt tussen de grepen, de fronten, het aanrechtblad en secundaire materialen zoals metaal, staal, natuursteen of tegels. Ook verschillende kleuren zijn kenmerkend voor de diverse stijlen van uw keuken.
Verschillende stijlen keukens van hout
Houten keukens zijn verkrijgbaar in verschillende stijlen en soorten. Denk bijvoorbeeld aan een keuken in landelijke stijl, een moderne uitstraling of een Oud Hollands thema. Hout is in ieder interieur te integreren en juist dat maakt het zo geliefd. Uiteraard kunt u ook variëren in de mate waarin het materiaal wordt toegepast.
Weet u precies welke elementen u in uw keuken wilt verwerken? Geef het door aan onze ontwerpers en wij tekenen uw wensen voor u uit. Wanneer u niet precies weet welke keukenstijl u het meeste aanspreekt, helpen wij u graag verder met het uitdenken van uw ideeën. Kies uit een veel verschillende soorten hout en kleuren om uw keuken een eigen stijl mee te geven. Een Houten keuken op maat is altijd passend voor uw situatie!
Waarom kiezen voor onze houten keukens?
Omdat het echte sfeerkeukens zijn! Door het gebruik van massief hout zijn onze keukens uiterst duurzaam en zult u gegarandeerd tientallen jaren van uw aankoop genieten. U bepaalt zelf hoe uw keuken eruit komt te zien. Wij bieden u de keuze uit verschillende houtsoorten en talloze kleuren. De mogelijkheden zijn eindeloos. Wilt u een keuken welke gezelligheid en warmte uitstraalt? Komt u dan een keer op bezoek in onze showroom. U zult begrijpen wat wij bedoelen. Onze houten keukens zijn keukens om in te leven.
Voordelen Eco Keukens
U de keuze heeft uit diverse houtsoorten
Wij komen bij u op bezoek komen voor een vrijblijvend adviesgesprek
U kunt kiezen uit talloze kleuren
Wij vervaardigen alles in eigen beheer
Onze werkwijze
Wij heten u van harte welkom in onze showroom om diverse houten keukens te bekijken. U kunt op uw gemak rondlopen onder het genot van een kopje koffie. Een van onze ervaren keukenontwerpers legt u tot in de kleinste details uit wat de mogelijkheden zijn. Samen met een ontwerper geeft u invulling aan de stijl die uw keuken dient te krijgen.
Na de uitgebreide uitleg gaan we rond de tafel zitten om een schaaltekening te maken. We kijken hierbij zorgvuldig naar de indeling, looproute, lichtinval en het uitzicht van de keuken. Zodra het schaalontwerp klaar is bespreken we uw wensen op het gebied van apparatuur en het werkblad. De berekening volgt hierna, zodat u precies weet wat de totale kosten zullen zijn.
U kunt het hele proces van begin tot eind bewonderen in onze werkplaats. Wij maken hier iedere keuken van puur massief hout in alle stijlen volledig op maat. Het kleuren doen we in onze eigen spuiterij. Ook de montage verzorgen we. Eco Keukens heeft hiervoor twee montageauto's beschikbaar die volledig uitgerust met alle apparatuur en zeer ervaren keukenmonteurs.
Kom langs om uw keuken te ontwerpen
Wanneer u de houten keuken door ons op maat wilt laten maken, kunt u gemakkelijk contact met ons opnemen door langs te komen in onze showroom, gevestigd in Gieten. Gebruik onderstaande knop om een routebeschrijving naar de winkel te openen. Al vele jaren zijn wij specialist als het gaat om houten keukens. Wilt u ook de keuken van uw droom werkelijkheid laten worden? Neem contact op met Eco Keukens of maak geheel vrijblijvend een afspraak.  U kunt bellen naar 0592 – 20 45 93 of een brochure aanvragen om wat inspiratie op te doen.
Op zoek naar een andere keuken?
Naast het houten keukentype kunt u bij ons terecht voor vele andere stijlen, waaronder: