De
Engelse Keuken
heeft een Victoriaanse stijl, die voornamelijk gevonden werden in landhuizen op het Engelse platteland.  Een keuken in Engelse stijl is te herkennen aan diverse elementen. Deze "cottages" zijn het schoolvoorbeeld van deze stijl en vormen ook de basis van de landelijk Engelse stijl. Een van de meest invloedrijke materialen die niet mag ontbreken is natuurlijk
hout.
En laten we daar nu bij Eco Keukens in gespecialiseerd zijn!
Eco keukens is gespecialiseerd in massief houten keukens. Deze keukens zijn uniek, tijdloos en exclusief. Ambachtelijk vervaardigde houten keukens geven uw huis een geheel andere uitstraling. Al onze keukens zijn maatwerk. Zo heeft u altijd een houten keuken in Engelse stijl die naar uw persoonlijke wensen is samengesteld! Door het toevoegen van klassieke elementen en het gebruik van karakteristieke materialen geven wij een tijdloos karakter aan uw Engelse Keukens.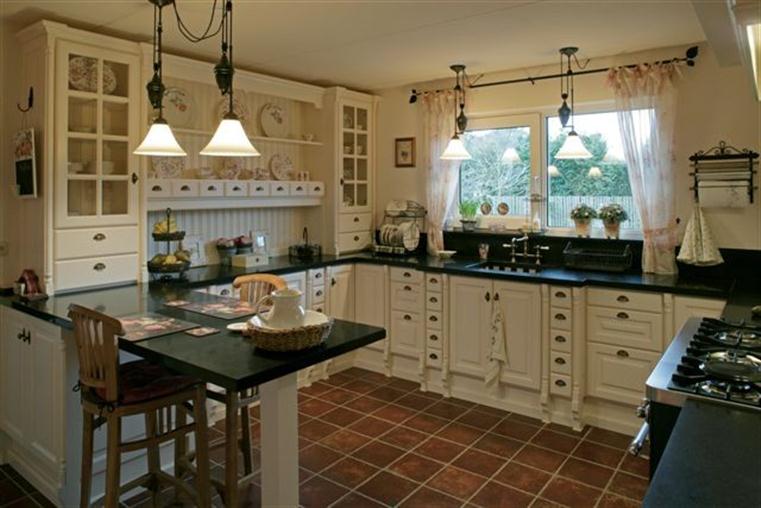 Engelse Keukens – Materialen
Engelse Keukens maken vaak gebruik van dezelfde soort materialen. Hout is hierbij een vaak terugkerend materiaal evenals glas en tegels. Hieronder worden alle elementen in de keuken toegelicht. Andere voorbeelden zien van landelijke keukens in Engelse stijl?
Vloer – De vloer is vaak van hout. Een visgraatmotief is veel voorkomend maar verticale patronen passen ook goed in deze stijl keukens. Dit wordt het beste bereikt door lange planken. De vloer kan ook bestaan uit een motief van tegels. Voor een echte authentieke "look & feel" kan het hout ouder gemaakt worden. Zo past de vloer naadloos in de inrichting van de Engelse Keuken.
Kastjes – De keukenkastjes zijn bijna zonder uitzondering van hout. Wanneer men voor een modernere cottage stijl gaat, kan er ook glas in de deuren van de keukenkastjes worden gemonteerd. Combineer dit met een mooi passend Engels servies of glazen!
Werkblad – Hoewel een werkblad van marmer ook voorkomt wordt in realiteit vaak gekozen voor een werkblad van hout. Dit past beter in de stijl van de keuken, kan geverfd worden in elke denkbare kleur en is gemakkelijk in onderhoud.
Fronten – Deze worden veelal ook van hout gemaakt. De houten fronten kunnen versierd worden maar worden ook vaak gepatineerd gezien.
Kleurgebruik & Stijl
Engelse Keukens kenmerken zich ook door de stijl en het kleurgebruik. Met name kleuren zoals gebroken wit, zachte pasteltinten, lichtbruin en lichtroze komen veel voor. Wanneer er tegels gebruikt worden zien wij de combinatie zwart-wit terug in de tegels en gebroken wit in de meubelen. De standaard kleuren zijn gemakkelijk met elkaar te combineren voor een sprookjesachtig uiterlijk. Ook door het gebruik van accessoires kan deze klassieke uitstraling versterkt worden. Deze keukens zijn daarnaast ambachtelijk doordat veel accessoires met de hand gemaakt moeten worden. Deze afwerkingen geven de keuken een sfeervol uiterlijk.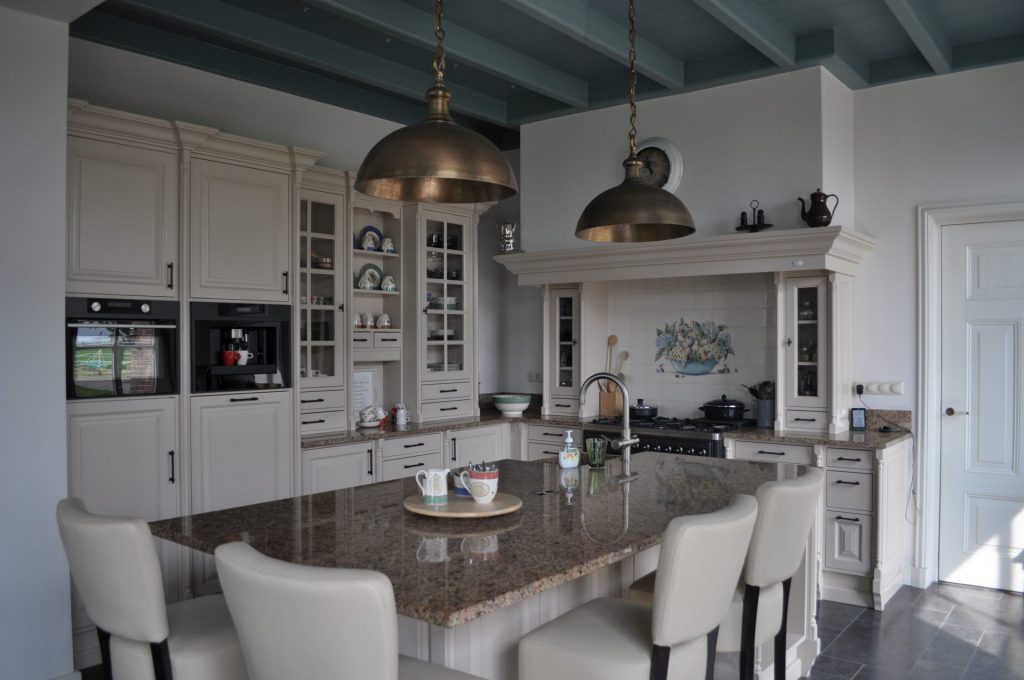 Engelse Keukens – Accessoires
De accessoires maken dat Engelse Keukens er stijlvol en toch modern uit zien. Een groot fornuis met bijbehorende schouw, mooie grepen van metaal en grote bronzen kranen zijn hier voorbeelden van. Ook porseleinen wasbakken en ingebouwde keukenapparatuur komen hier goed tot hun recht.  Grote kabinetten, bordenhouders en ijzeren haken passen goed in deze stijl. Daarnaast zien we ook steeds vaker het kookeiland terug in dit type keukens. Op deze manier is het voor iedereen mogelijk de keuken geheel naar eigen smaak vorm te geven.
Engelse Keuken Kopen
Wilt u nu ook Engelse Keukens kopen?  Dat kan bij Eco Keukens!  Vraag een brochure aan of vul uw contactgegevens in, dan nemen wij zo snel mogelijk contact met u op. Vergeet niet: elke keuken bij ons is maatwerk. Eco Keukens: voor de keuken van uw leven!
Onze specialisten proberen u zo goed mogelijk te helpen bij het uitzoeken van uw ideale Engelse keuken!