Industriële keukens zijn uniek in stijl. Als u iets aparts wilt, dan is industrieel zeker het overwegen waard. De combinatie van stoere, robuuste materialen in combinatie met een strak design geeft een keuken het industriële uiterlijk. 
Het kopen van een keuken doet u echter niet zomaar. We vertellen u daarom graag eerst alles over industriële keukens, zodat u een weloverwogen keuze kunt maken.
De stijl is van oorsprong erg minimalistisch, omdat de oorsprong ligt in omgebouwde fabrieken. Leegstaande fabrieken in New York werden omgebouwd tot appartementen, ook wel lofts genoemd. De keuken oogt als een ruimte in een fabriek, maar dan met keukenapparatuur en accessoires. Zo combineert u een industriële look met alle benodigde apparaten in een industriële keuken.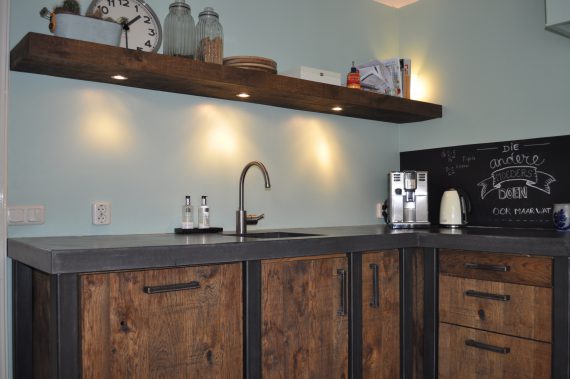 Industriële keukens voor een industriële woonstijl
Industriële keukens hoeven niet op zichzelf te staan. U kunt ook uw gehele woonstijl industrieel maken. Het materiaal dat gebruikt wordt voor een keuken met een industriële sfeer staat niet vast, maar als uw woonstijl aansluit op de industriële keuken is dat wel extra mooi.
Bij het kiezen van de basiskleur van uw keuken, heeft u vele mogelijkheden. Een veel gekozen basis is echter een zwarte keuken. Industrieel kenmerkt zich namelijk door de gebruikte elementen en accessoires. Door een zwarte keuken als basis te kiezen, vallen de andere onderdelen extra op. Voorwaarde is dan wel dat u aanvullende, of juist contrasterende kleuren kiest voor de losse elementen in uw keuken. 
Kies bijvoorbeeld een industrieel kookeiland en maak de achterwand opvallend door het de kleur en structuur van beton te geven. Werkt u op deze manier met contrast van materialen en kleuren, dan springt een industrieel keukenkastje er extra uit. Bovendien krijgt uw keuken een extra industriële look.
U kunt er ook voor kiezen om uw keuken op zichzelf te laten staan, door alleen uw keuken in deze stoere stijl te maken. Op die manier springen industriële keukens eruit en staan ze echt in de spotlights. 
Materiaalgebruik bij een keuken met industriële look
Het gebruik van beton is niet de enige manier om industriële keukens te maken. Het geheim zit hem in de combinatie van zowel de kleuren als het materiaalgebruik. Bij gebruik van veel beton wordt het al snel een grijze keuken. Industrieel betekent echter meer dan grijs en beton. Zo kan bijvoorbeeld een achterwand van rode bakstenen een heel erg authentieke, industriële look uitstralen. 
Een ander voorbeeld is het gebruik van metaal en staal bij het kookeiland. Industrieel betekent namelijk dat er gebruik is gemaakt van grof en onbewerkt materiaal. Van oorsprong moest het vooral functioneel zijn in plaats van decoratief. Door het materiaal overal in terug te laten komen, creëert u een compleet industrieel keukenblok.
U kunt het zo gek niet bedenken of het past goed bij industriële keukens. Beton is mooi en veelgebruikt, maar niet nodig als uw voorkeur ergens anders naar uitgaat. De keuken moet vooral strak en simplistisch zijn. Zo creëert u een keuken met een industriële look.
Typische kenmerken van industriële keukens
Industriële keukens zijn erg karakteristiek en hebben een aantal herkenningspunten. Dit zijn de kenmerken op een rij: 
Grote opvallende stalen afzuigkap.

Industriële accessoires: keukenrek, wijnrek, barkrukken

Een afwijkende achterwand

Gebruik van robuuste materialen als roestvrij staal, hout, beton en metaal

Veel zwarte accenten, maar ook goud, brons of koper wordt gebruikt om de oude leidingen in fabriekspanden na te maken
Als u nu al overtuigd bent, kunt u ook gaan denken aan industriële keukenaccessoires en aan de finetuning. Denk daarbij aan de vormgeving van het blad en de keukenkastjes. Industrieel wil ook zeggen dat er veel ruimte is voor eigen inbreng. Als u meer industriële materialen toegevoegd, benadrukt u de kenmerkende look nog iets meer. 
Een grijze of zwarte keuken leent zich perfect om industriële elementen toe te voegen, maar u kunt ook kiezen voor alleen zwarte of grijze elementen. Denk bijvoorbeeld aan een zwarte kraan en de grepen op de keukenkastjes.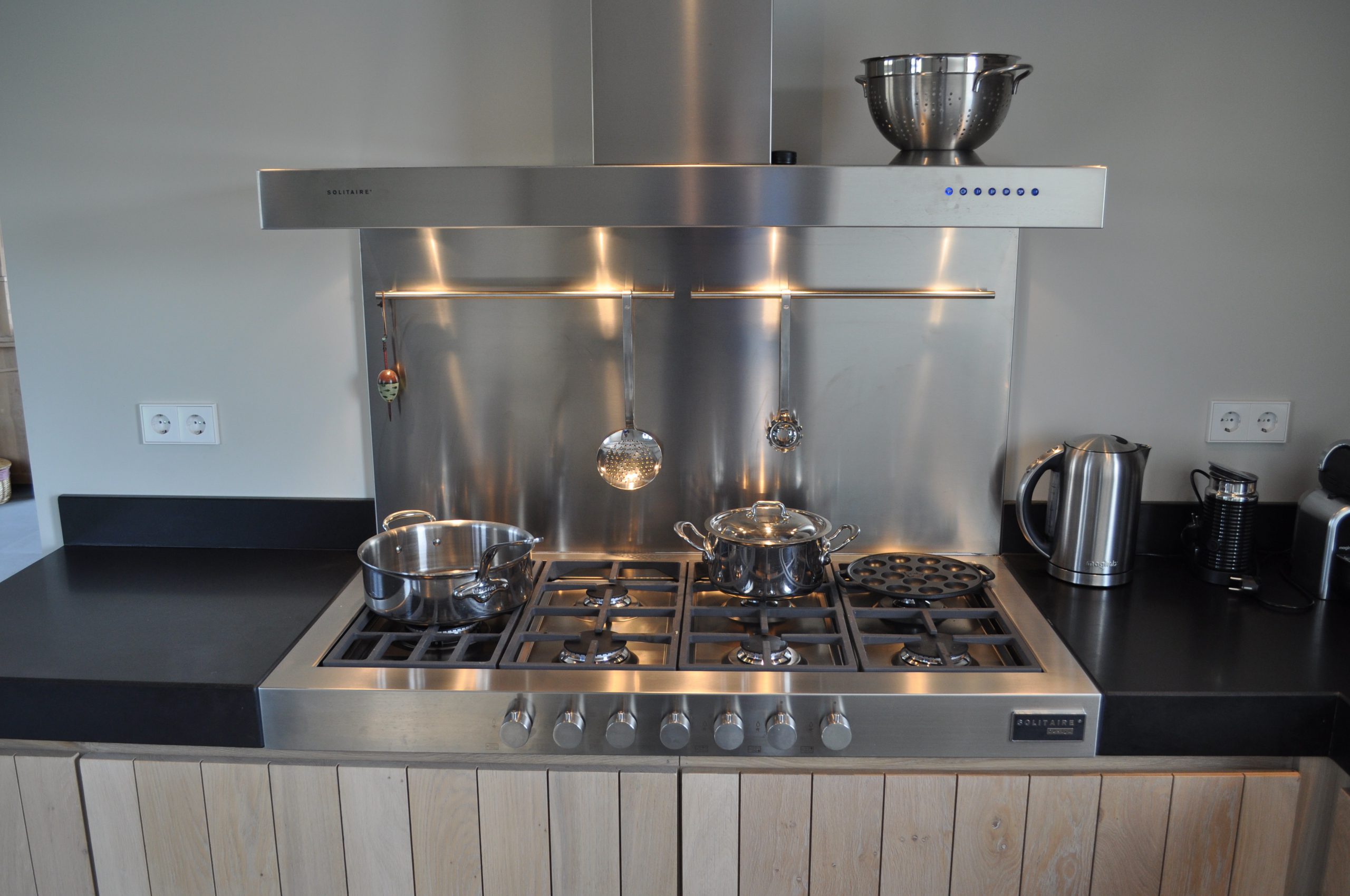 Niet alleen een stoere look
Een industriële look is stoer, maar uit zich vaak in een grijze keuken. Dit komt omdat veel van de materialen die worden gebruikt in de keuken een grijs of zwarte tint hebben. We kunnen ons daarom voorstellen dat u verschillende keukenstijlen wilt combineren. 
Onbewerkte kleuren, elementen en materialen maken uw keuken industrieel. Landelijk heeft van zichzelf andere kenmerken, maar kan prima dienen als secundaire keukenstijl. De twee stijlen brengen het beste van beide stijlen samen en voorkomen dat industriële keukens zwart of grijs ogen. Door bijvoorbeeld het gebruik van hout krijgt uw keuken een warme, maar tegelijkertijd strakke en functionele look.
Omdat wij alles op maat maken, bepaalt u zelf hoe uw keuken eruit komt te zien. Kies bijvoorbeeld voor een groot keukenblok met een kookeiland. Industrieel is geen vast gegeven en laat veel ruimte voor eigen invulling. Aan de hand van uw ideeën delen wij onze kennis graag, zodat u uiteindelijk uw perfecte keuken in huis heeft.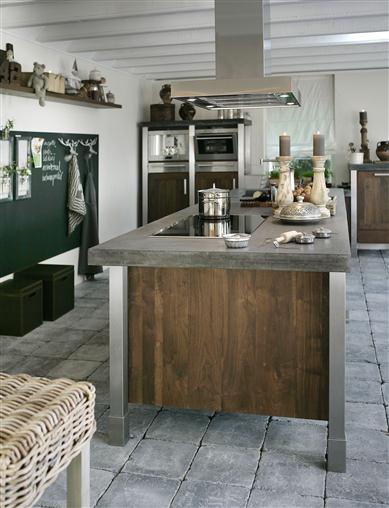 Industriële keukens kopen
Wilt u een industriële keuken kopen? Wij helpen u een keuken samen te stellen die aan al uw wensen voldoet. Neem contact op met Eco Keukens of maak geheel vrijblijvend een afspraak.
Heeft u vragen over onze keukens of werkwijze? U kunt ons bereiken via (0592) 26 40 38. Wilt u onze brochure aanvragen of meteen een afspraak maken? Bel dan ook gerust. Dan gaan we samen met u aan de slag om uw doel te bewerkstelligen. Eco Keukens maakt namelijk de mooiste industriële keukens! 
Op zoek naar een andere keuken? Naast het industriële keukentype kunt u bij ons terecht voor vele andere stijlen, waaronder: