Een hoekkeuken is er in verschillende stijlen en designs.  Het is in Nederland misschien wel de meest voorkomende keukenopstelling. Zeker bij keukenrenovaties en in nieuwbouwwoningen wordt door Nederlandse huishoudens steeds vaker gekozen voor een keuken met hoek. Deze alsmaar toenemende populariteit komt voornamelijk door alle voordelen die ze te bieden hebben. Door de hoek in de keuken wordt bijvoorbeeld meer opbergruimte gerealiseerd. Dit terwijl u voldoende bewegingsvrijheid behoudt.
In de hoek wordt onder meer een carrouselkast geplaatst, waardoor alle ruimte optimaal wordt benut. Bovendien is dit model ideaal voor het plaatsen van een groot werkblad. Daarnaast creëert u een gezellig ruimte voor een eethoek. Hierdoor past dit type in elke stijl en zijn ze er voor elk budget. Voor zowel een grote als kleine keuken wordt steeds vaker gekozen voor de hoekkeuken gekozen.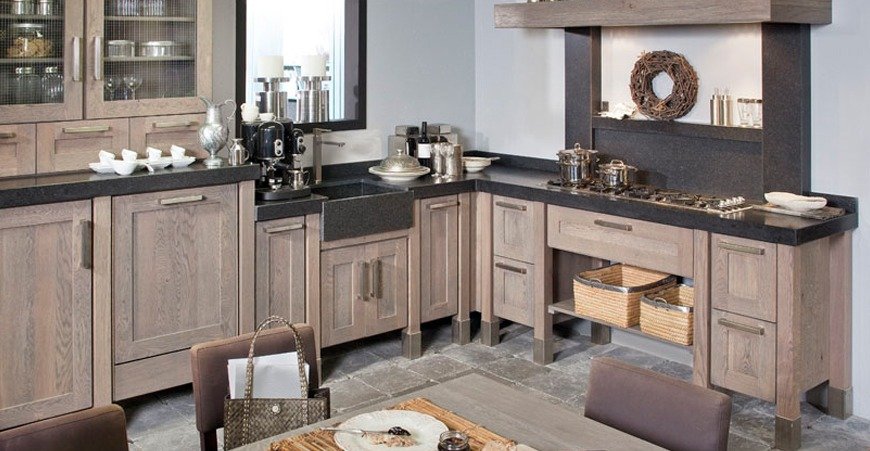 Hoekkeuken voor iedere woning
Het open karakter van een hoekkeuken oogt niet alleen knus en huiselijk, maar is ook nog eens uitnodigend. Aangezien u niet wordt gescheiden door een muur of keukenblok. Dankzij onze ontwerpen voelt uw huis straks nóg meer als thuis. Dankzij onze landelijke keuken stijl geniet u van luxe en kwaliteit. We zien steeds vaker dat mensen kiezen voor een hoekkeuken. De stijgende populariteit is haast ongekend. Door de L-vorm ontstaat effectieve werkruimte waar u alles kunt overzien.
Voldoende ruimte in uw keuken met hoek
Veel mensen vinden dat ze in hun keuken weinig ruimte hebben. Heeft u hier ook last van? Met een hoekkeuken is dit verleden tijd! Hiermee wordt namelijk meer werk- en opbergruimte gecreëerd. Deze opstelling biedt namelijk ruimte voor een groter keukenblad en meer laden en kasten.
Kies uw eigen stijl
Al onze hoekkeukens worden op maat gemaakt. Wat betekent dat u bij Eco Keukens terecht kunt voor veel verschillen typen en stijlen keukens. Van een Moderne tot Engelse stijl en van Oud Hollandse tot Landelijke Keukens. Zo krijgt iedere keuken zijn eigen, unieke uitstraling. Verder zijn onze keukens leverbaar in meerdere kleurcombinaties, zodat ze altijd passen bij uw inrichting.
Hoekkeuken kopen
Wilt u graag een hoekkeuken kopen? Dan helpen wij van Eco Keukens u daar graag bij. Al onze keukens zijn maatwerk. Dit betekent dat wij alles naar uw wensen samenvoegen. Hierbij maken wij gebruik van diverse materialen, kleurcombinaties en accessoires. Dit voor het mooiste eindresultaat. Heeft u inspiratie nodig? Kom dan eens langs in onze showroom in Gieten.
Vraag een brochure aan of vul uw contactgegevens in op de contactpagina. Natuurlijk kunt u ook altijd bellen naar onze winkel, onze specialisten proberen u zo goed mogelijk te helpen.