Een
landelijke keuken
brengt sfeer en gezelligheid in de woning. Het maakt van een huis een thuis. De landelijke inrichting wint de laatste jaren steeds meer aan populariteit. Dit komt voornamelijk vanwege de vele mogelijkheden die deze stijl te bieden heeft. Steen en hout zijn hierbij twee materialen die vaak gecombineerd worden, maar ook porselein en gietijzer ziet u hier veel terug.
Eco Keukens brengt uw wensen en ideeën tot leven. Wij zijn al meer dan 30 jaar dé leverancier en fabrikant van een op maat gemaakte keukenmodellen in landelijke stijl. Vraag direct een brochure aan of maak meteen een afspraak! Neem contact met ons op door te bellen naar 0592-264038. Liever eerst bekijken wat we voor u kunnen betekenen? Vraag dan een gratis keukenbrochure aan om een passende landelijke keuken te vinden!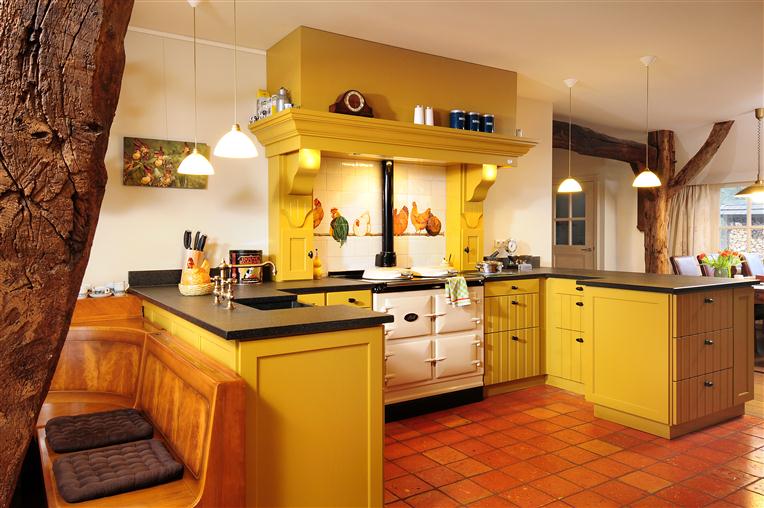 Wat is een landelijke keuken
Bij een landelijke keuken zijn er een aantal zaken die we altijd terugzien. Allereerst zijn dit de natuurlijke materialen, maar ook een combinatie van warme en lichte kleuren. Comfort, gezelligheid en een harmonie tussen het gehele interieur staan centraal. De elementen waar de keuken uit is opgebouwd vormen samen met de elegante accessoires een geheel. Het zorgt bovendien voor een unieke uitstraling. Iedere keuken wordt namelijk met de hand op maat gemaakt. Geen keuken is hierdoor hetzelfde!
Wilt u graag inspiratie opdoen? Kom dan langs in onze showroom of vraag vrijblijvend een brochure aan.
Keuken in landelijke stijl op maat kopen
De landelijke keukens van Eco Keukens geven het nostalgische gevoel van vroeger. Het is een perfecte mix tussen moderne techniek en nostalgische vormgeving.
Doordat wij uw keuken in onze eigen fabriek vervaardigen, kunt u er van op aan dat wij uitsluitend topkwaliteit leveren. Hierdoor heeft u jaren lang plezier van uw keuken met landelijk ontwerp die helemaal aansluit bij uw wensen. U heeft namelijk de keuze uit diverse soorten hout en vele kleuren.
Talloze kleuren
Diverse houtsoorten
Levenslange garantie
Wij komen bij u op bezoek voor een vrijblijvend adviesgesprek
Wij vervaardigen uw houten keuken in eigen beheer
Zo kunt u uw landelijk moderne keuken tot in de kleinste details samenstellen. En dat hoeft zeker niet 1, 2, 3. U krijgt bij ons de tijd om uw eigen keuken tot in elk detail te ontwerpen en verschillende opties af te wegen.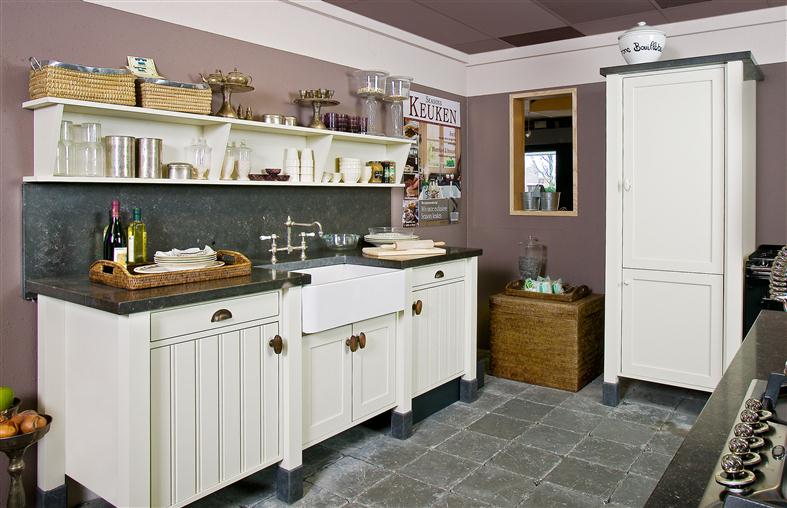 Maatwerk keukens uit eigen fabriek
Wij beschikken over een eigen fabriek die volledig in eigen beheer is, waardoor we iedere Landelijke keuken zelf samenstellen. Hierdoor voldoen de keukens aan de allerhoogste kwaliteitseisen. Door een goede kwaliteitsbewaking en het uitsluitend gebruiken van materialen van hoge kwaliteit, kunnen wij garanderen dat u jaren plezier zult hebben van uw keuken die volledig op maat gemaakt is. Zo kiest u voor een complete landelijke keuken die volledig op uw wensen is afgestemd.
Landelijke keuken inrichten
De inrichting is iets waar mensen over het algemeen veel tijd aan spenderen. Niet zo vreemd, want alles moet natuurlijk perfect zijn. Bij het samenstellen van de Landelijke keuken wordt vaak gekozen voor een combinatie van zowel open als dichte kasten. Dit zorgt voor een meer ruimtelijke sfeer. Daarnaast zien we ook dat steeds meer mensen kiezen voor een wijnrek. bovendien zien we overal keukenaccessoires terug. Een landelijke uitstraling creëert u bijvoorbeeld door het plaatsen van houten planken voor botten, pannen en alle kruiden. Een andere trend waar meer en meer mensen voor kiezen is hangend kookgerei. Niet alleen tegen de wand, maar ook boven een kookeiland.
Ontwerp uw keuken; landelijk & modern!
Bij Eco Keukens combineren wij de landelijk keuken feilloos met een modern uitstraling. Zo ziet u de stijl terug in de vormgeving en het materiaal, waardoor u een echt nostalgisch gevoel krijgt bij de keuken. Maar hier mag de moderne techniek zeker niet aan ontbreken. De ultieme balans tussen het landelijke en moderne aspect zorgt voor het perfecte totaal plaatje. Houdt u ervan om zich te onderscheiden en heeft u een landelijke inrichting? Dan bieden de keukens met modern karakter van Eco keukens een goede uitkomst voor u! Wilt u toch liever een hip en strak uiterlijk? Neem dan eens een kijkje bij onze moderne keuken.
Klassieke keukens
Naast een moderne uitstraling heeft u ook de mogelijkheid om te kiezen voor een klassiek design voor uw keuken. Een klassieke keuken op maat wordt gekenmerkt door een brocante uitstraling en vintage ontwerp. Het straalt warmte uit, maar geeft toch een nostalgisch gevoel. Kenmerkend voor deze keukens zijn:
Warme kleuren
Ambacht
Hout
Grepen met accenten
Sfeervolle verlichting
Landelijke keuken met kookeiland
Steeds meer mensen kiezen voor een landelijke keuken met kookeiland. Niet vreemd, aangezien dit voor meer sfeer zorgt. Een keuken met deze opstelling zorgt voor een betere verbinding met de woonkamer. Bij het samenstellen van de keuken heeft u uitgebreide mogelijkheden. Door gebruik te maken van hout wordt een rustieke sfeer gecreëerd.  Ze worden op maat gemaakt voor uw huis en inrichting. Vanaf het moment dat het eiland is geplaatst, voelt u meer synergie. U beweegt zich gemakkelijk rond en komt gemakkelijk bij de koelkast, het fornuis en de kastjes. Het biedt daarnaast de ideale mogelijkheid om een extra zitgedeelte te creëren met hoge stoelen of barkrukken. Onze eiland keukens zijn geheel om maat samen te stellen, waardoor ze volledig voldoen aan uw wensen en behoeften. Voorzien van hoge kwaliteit materialen en apparatuur. De eilanden zijn leverbaar in verschillende varianten. Zo zijn er eilanden met een ingebouwde fornuis, geïntegreerde spoelbak en kastjes.
Wilt u graag een landelijke eilandkeuken? Eco Keukens vraag een brochure aan of kom langs in onze showroom!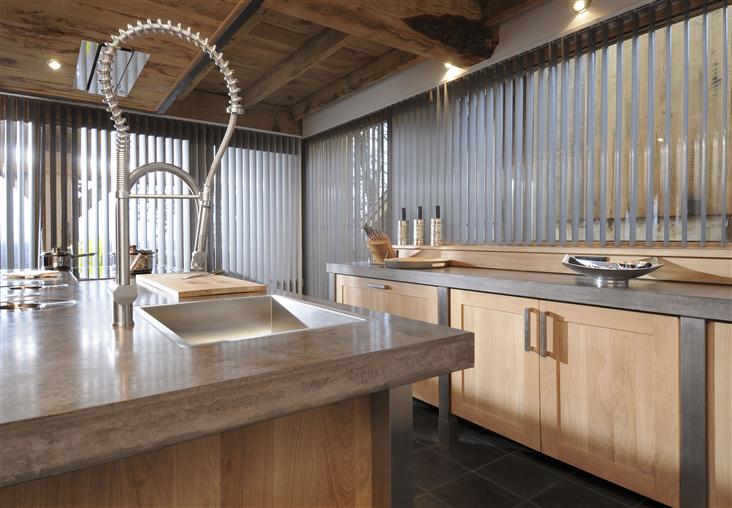 Landelijke keuken op maat?
Bent u opzoek naar een landelijke keuken op maat? Wij van Eco Keukens hebben ons gespecialiseerd in het afleveren van maatwerk tot op de millimeter. Het maakt hierbij bijvoorbeeld niet uit of de keuken in de lastige hoek geplaatst moet worden, want dankzij het maatwerk van Eco Keukens is alles mogelijk. Of u nu kiest voor een landelijke hoekkeuken, een open keuken of een andere inrichting zoals een Engelse Keuken. Alles is geheel naar uw wensen afgestemd.
Of u nu droomt van een modern ontwerp, een eiland of een klassieke uitstraling, alles is mogelijk.
De landelijk moderne keukens worden volledig op maat gemaakt. Hierdoor kunt u de keuken helemaal afstemmen op uw wensen en voorkeuren. Denk hierbij aan kleuren, materialen en afmetingen. Wij zorgen voor een perfecte balans tussen nostalgische vormgeving en hedendaagse techniek.
U bepaalt de indeling van uw keuken tot in de allerkleinste details. Door een landelijke keuken op maat te laten maken bent u ervan verzekerd dat u een uniek ontwerp heeft die u niet zomaar ergens anders kunt tegenkomen.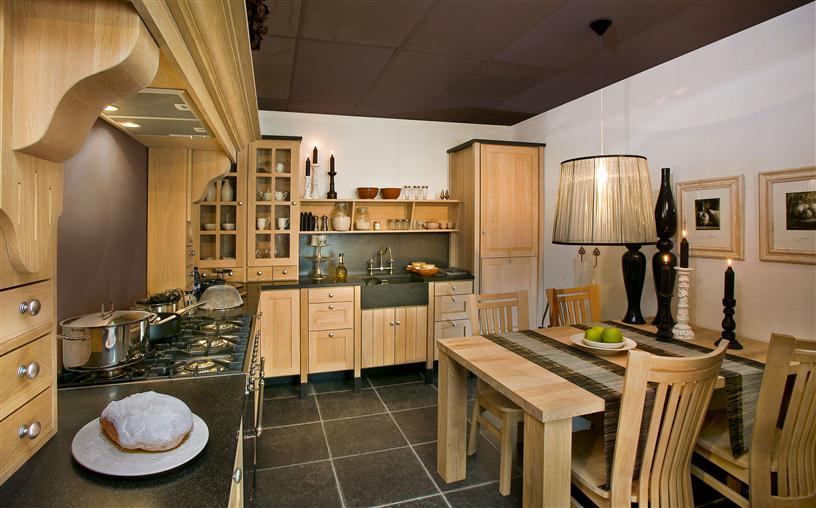 Keukens in landelijke en moderne stijl
Bent u opzoek naar keukens die zowel landelijk als modern zijn? Eco Keukens is inmiddels 26 jaar gerenommeerde leverancier en fabrikant van moderne keukens in een landelijke stijl. Hierbij gebeurt alles bij ons onder één dak van ontwerp tot realisatie. Wij beschikken over een eigen fabriek en hierdoor kunnen wij onze kwaliteit goed waarborgen. Onze keukens voldoen aan hoge kwaliteitseisen, hierdoor bieden wij u een leven lang garantie.
Heeft u een droomkeuken in gedachten? Of heeft u juist nog niet zo'n duidelijk beeld van wat u precies wilt? Bij ons krijgt u de kans om keukens te bekijken, vergelijken en uiteindelijk zelf samen te stellen. Kies bijvoorbeeld voor een open keuken voor een extra landelijk moderne look! Wij heten u graag welkom in onze showroom zodat u uw wensen met één van onze specialisten kunt bespreken. Samen zorgen we ervoor dat u een glimlach op uw gezicht krijgt van elk detail in uw zelfontworpen design!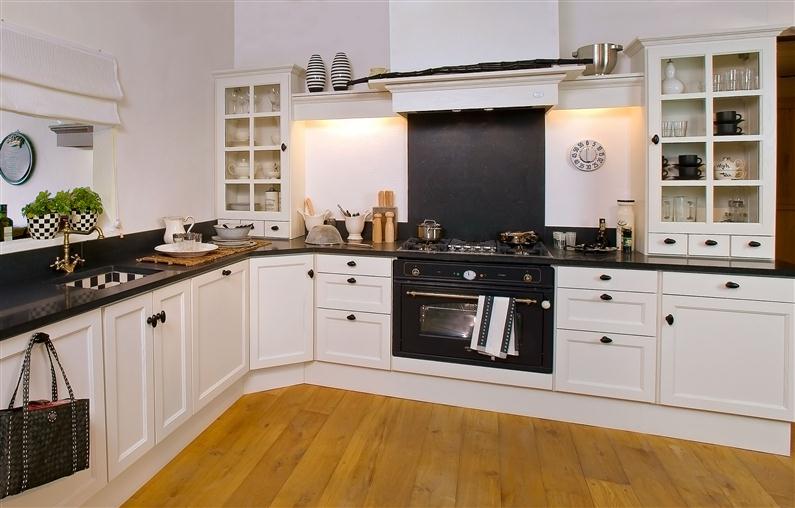 Waarom Eco Keukens?
Waarom onze klanten ervoor kiezen om keukens in landelijk stijl bij ons te kopen en niet ergens anders heeft meerdere redenen, namelijk:
U ontvangt op onze keukens levenslange garantie
Ruime keuze in hout soorten en kleuren
Unieke designs die u nergens anders ziet
Maatwerk tot in kleine details mogelijk
Zeer hoge kwaliteit keukens
Wij zien toe op het gehele proces van ontwerp tot realisatie
Productie in eigen fabriek
Meer dan 20 jaar ervaring!
Kortom: Ambachtelijke keukens in een landelijk modern jasje gestoken vindt u absoluut bij Eco Keukens. Samen zorgen we ervoor dat in onze eigen fabriek uw droomkeuken vervaardigd wordt. Voor een tijdloze keuken met een warm karakter komt u uiteindelijk vaak uit bij hout. Het materiaal past in iedere woning en kan zeer authentiek en nostalgisch toegepast worden, maar ook uiterst modern landelijk. De keuze is geheel aan u, het is aan ons om de mogelijkheden te laten zien van een landelijke keuken.
Ervaringen met onze Landelijke Keukens
Ambachtelijke, nostalgische landelijke keukens op maat, in uw stijl en in uw perfecte kleur regelt u met Eco Keukens. Er zijn keukens in alle soorten en maten, maar wie voor een tijdloze keuken gaat, komt vroeg of laat uit bij het warme karakter van hout, omdat dat in iedere woning past. "En wie daarbij ook nog eens verzekerd wil zijn van een exclusief concept, kiest voor ambachtelijk vervaardigde houten keukens en moderne landelijke keukens van Eco Keukens. We hebben bij Eco Keukens hart voor hout", laat Henny Keuter weten. "We maken iedere keuken precies op maat, in de gewenste stijl en kleur, inclusief apparatuur van alle bekende merken."
Kiest u voor een landelijke keuken?
Bent u geïnteresseerd in een nieuwe keuken? Wij heten u graag welkom in onze showroom in Gieten. U kunt ook een brochure aanvragen voor meer informatie of u kunt telefonisch een afspraak met ons maken voor persoonlijk advies. Wij helpen u graag bij het samenstellen van uw landelijke keuken!