Een nostalgische keuken is de perfecte combinatie tussen de klassieke en landelijke stijl. Bij Eco keukens kunt u deze op maat laten ontwerpen, compleet samengesteld naar uw eigen wensen. Wij ontwerpen en bouwen handgemaakte houten keukens en kunnen uw wensen voor u uitwerken. Een keuken in nostalgische stijl doet denken aan grootmoeders tijd, waar je van jongs af aan bepaalde elementen tegenkwam. Dit soort keukens worden door sommige mensen ook wel Oud-Hollandse keukens genoemd. Eco Keukens ontwerpt al meer dan 26 jaar massief houten keukens op maat en kan u ondersteunen in het ontwerp van uw keuken vol nostalgie. Aangezien wij vrijwel alle specialisten in huis hebben, kunnen wij garanderen dat uw keuken gemaakt wordt door echte vaklui. Kom snel langs in onze showroom in Gieten, of neem contact op om uw nostalgische keuken te laten ontwerpen.
Nostalgische keuken voor gezelligheid
Een nostalgische keuken straalt warmte en gezelligheid uit. Het doet direct denken aan een keuken uit  grootmoeders tijd. Vaak wordt hier dan gekozen voor ouderwetse, felle kleuren, maar tegenwoordig zien we dat er ook steeds vaker gebruik wordt gemaakt van crème. Dit zorgt net voor een beetje meer luxe. Wilt u graag dat het knus is tijdens het koken en avondeten? Kies dan voor een stijlvolle keuken vol nostalgie. Ondanks de ouderwetse uitstraling ben je van alle gemakken voorzien.  Er wordt gebruik gemaakt van warme houtsoorten en luxe keukenapparatuur. Zo worden onder meer de koelkast, vriezer en oven in het ontwerp opgenomen. Daarnaast kunt u ook kiezen voor een vaatwasser, koffiezetapparaat en broodrooster. Ziet u zo'n keuken al helemaal zitten? Kom dan vrijblijvend langs in de keukenshowroom om alle mogelijkheden te ontdekken! Hier kunt u tevens genoeg inspiratie opdoen voor uw eigen nostalgische keuken. Uiteraard kunt u ook geheel vrijblijvend contact met ons opnemen!
Breng nostalgie aan in je nieuwe keuken
Een nostalgische keuken (ook wel boerenkeuken genoemd) lijkt qua stijl erg op een landelijke keuken, maar beschikt over een aantal kenmerkende aspecten, zoals het gebruik van natuurlijke materialen, het wegwerken van de nieuwe keukenapparatuur en natuurlijk het gebruik van massief hout. Eco Keukens kan voor u een massief houten keuken ontwerpen met deze stijlelementen hierin verwerkt, maar natuurlijk zijn er nog veel meer opties! Vraag onze vaklui naar de mogelijkheden of ontwerp uw eigen design samen met de specialisten van Eco Keukens.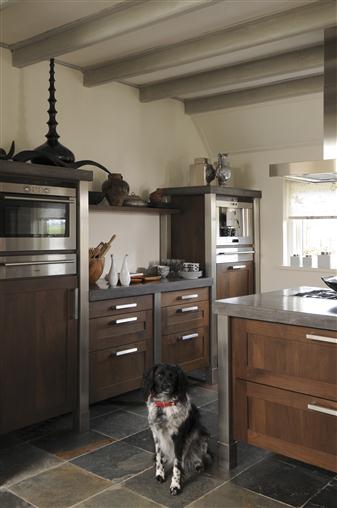 De nostalgische keuken kenmerkt zich met name door het gebruik van natuurlijke materialen zoals tegels of steen op de vloer en bijvoorbeeld massief hout voor het maken van de keuken zelf. Deze gezellige stijl wordt nog eens benadrukt door de messing of koperen handgrepen en het vrijstaande fornuis. De combinatie van hout met steen en rustige kleuren zorgt dat de nostalgische keuken aan zijn naam komt.
Materialen en Stijl van de nostalgische keuken
Het kleurgebruik van een nostalgische keuken is in de afgelopen jaren niet veel veranderd: over het algemeen wordt er gekozen voor een kleurencombinatie met gebroken wit en een lichte pastelkleur, zoals groen, blauw of bruin (taupe). Op deze manier kan er een mooi contrast gemaakt worden met de vloer en de apparaten en is het massieve hout van de keuken bewerkt met een aantal mooie laklagen.
Vloer: voor de vloer kunnen een aantal materialen geselecteerd worden, maar over het algemeen gaan de meeste mensen toch voor een tegelvloer. Dit is zeer gemakkelijk schoon te houden en geeft een mooi contrast met het hout van de keukenkastjes. Ook kan er gekozen worden voor een massief houten vloer, die op zijn beurt goed samenspeelt met het hout in de rest van de keuken.
Keukenkastjes: De keukenkastjes en fronten worden gemaakt van kwalitatief hoogwaardig hout dat een aantal keer gelakt is om een mooie, dikke afwerking te geven. Daarnaast kan er soms ook glas worden toegevoegd aan de deurtjes om het gebruiksgemak te verhogen.
Keukenapparatuur: de nieuwste keukenapparatuur moet natuurlijk wel aanwezig zijn in deze keuken voor het hoge gebruiksgemak, echter hoeft het niet prominent in zicht te zijn. In een nostalgische keuken worden de apparaten weggewerkt om een oude look & feel te creëren.
Wat u ook kiest: bij Eco keukens kunt u gemakkelijk een nostalgische keuken kopen!